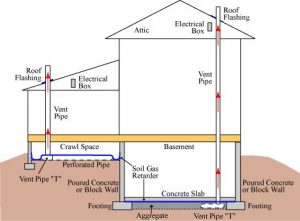 We recently tested our home for Radon and the results came back quite high. We had an average reading over a 48 hours period of 11.9 pCi/L, which is well over the EPA recommended action level of 4.0 or higher.
I have been referring out 3 companies for mitigation to our home inspection clients when requested. Our Radon measurement results and the need of installing a mitigation system allowed us the opportunity to work with these companies personally.
The companies are:
1) All Colorado Mitigation, Inc. – (720) 726-4556
2) Ace Radon – (303) 753-1044
3) RDS Environmental – (303) 558-5249
We took bids from all three companies and all three were very professional and responsive. You will not go wrong with any of these companies they are all very good, highly knowledgeable, licensed, and have well trained staffs.
We decided to go with All Colorado Mitigation, Inc. for two reasons. One they gave us the best bid, and two I really liked the owner Ben. Ben was very personal, very knowledgeable, and knew the construction of our home from working with the builder on other homes. His experience with our builder led us to the discovery of an existing passive system that we were able to put a fan on and upgrade to an active mitigation system.
Ace Radon was a close second, they also were very knowledgeable and competitive with their pricing. Their estimator Brian was well seasoned, knew his business, and was extremely professional.
RDS Environmental quoted me over the phone, their pricing was high compared to the other two and when I called them back to discuss the price and possible locations for the mitigation system that would help to lower that price, they never returned my phone call. RDS is a great company, they have a strong reputation and are noted for doing great work. All contractors, especially in the Denver Front Range market currently, become over loaded with work and cannot return phone calls or chase leads. I would not hesitate to call RDS and work with them on a mitigation system.
After the mitigation was installed I tested our levels again and the readings after the second 48 hour test came back at 1.5 pCi/L. Obviously the active Radon mitigation system is working correctly, and our levels have been lowered to an acceptable level.
If you have any questions about Radon, mitigation, or would like to test for Radon please do not hesitate to call our office @ (970) 481-7977.
Thank you,
Rick Moore
Sherlock Homes Inspection & Appraisal, LLC
SherlockHomesCO.com
(970) 481-7977